Racing 2021
Monday 26 July
Racing 2021
We have confirmed that there will be two Regattas in August. Both being held on the 15th August.
The Southern Regatta is a date change at short notice, and as with everything these days both these dates are subject to whatever happens between now and then with any government restrictions.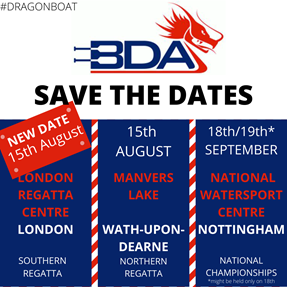 Northern Regatta - Manvers Lake
Southern Regatta - London Regatta Centre
CLUB ADMINS: This will be the first time we will be using our new Digital Platform to manage crew lists and race entry. All Club Admins will recieve an email with instructions on what preparation needs to be done, and how to submit crew sheets prior to the event.
We will be holding a Club Admin "drop in" session to held answer questions on the 5th August. To register interest please go to the event here:
https://bda.azolve.com/workbench/public/events?ref=0690346EFE0F2DCE52F75011A1D84D0E6CDC7D9F
We will also be running a "virtual test event" to allow clubs and crews to practice submitting crew entries etc on the 8th August. Click here for the Virtual event:
https://bda.azolve.com/workbench/public/events?ref=EF6E78E25BE5A73EDA5FCEE9CC8A397F7B232166
---