40 days in the life of Pink Champagne
Monday 8 July
It has been a busy time for the paddlers of Pink Champagne - here is a quick summary of 40 days in the life of a Pink Champagne Paddler!
11th May London Moonpaddle day, Pink Champagne decided to do their
own version of the event and paddled 27 miles along the River Stour, the route
was a  4.5 mile return and the ladies achieved 6 returns finishing at 10.30pm
In the dark and stuck on a sandbank!
 9th May eleven ladies went to compete in the 2nd Hong Kong Festival
In Barcelona, it was great to see other UK teams there, a good event with
very wet weather.
27th May a team competed at Sherborne Castle at a charity event.  A good
fun day racing against the army and fire service!
6th June twenty two ladies plus supporters travelled to Venice to take part
In The Venice Dragonboat Festival on the Saturday and The Vogalonga
on the Sunday.  The team won 2 gold medals on the Saturday, one for the BC
race and another in the ladies against non BC crews.
We completed the Vogalongo in 6 hours with a long loo stop in the middle.
15th June We took part in the Dragon & Flowers festival in Liverpool, hosted
By Pool of Life, there were over 60 BC Paddlers at the event, Pink Champagne
Won the BC race and  Pool of Life won the 500m Slalom.
16th June  Liverpool BDA event, we finally got a BC Category at a BDA event
3 BC teams entered the whole event, with a separate BC final race, Pink Champagne won the final.
Thank you to the BDA for their help in getting this to happen.
A new team was launched at this event The Pink Royals UK breast Cancer Team, this team is a composite team run by Wendy Grose to give BC Paddlers
in the UK an opportunity to race home and abroad, anyone interested please contact pinkroyalsdragonboat@gmail.com
Now training starts for Seville.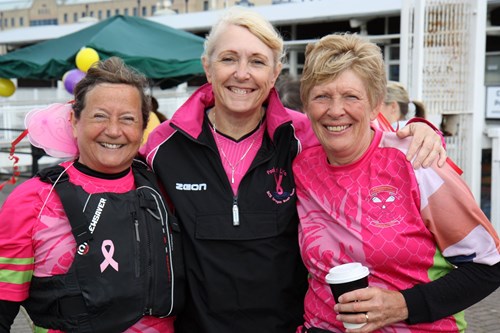 ---