Sporting Equals Charter
In July 2020 we signed the Sporting Equals Race Equality Charter.
Sporting Equals exist to promote ethnic diversity across sport and physical activity. Originally set up in 1998 by Sport England, in partnership with the Commission for Racial Equality, they are now a fully independent body and a national partner of Sport England.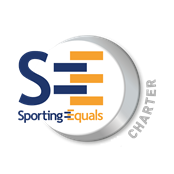 Signing the Charter and partnering with Sporting Equals will help us to
Demonstrate our commitment to our vision of "Competitive Dragon Boat Racing for EVERYONE in the UK"
Monitor and track how we are currently doing
Develop an action plan to work on, to ensure our sport is inclusive and welcoming to everyone
By building on the inclusive nature of our sport, we hope to enable it to grow, be more competitive and allow more people in the UK to experience this fantastic team sport.
Section Navigation