Return to Training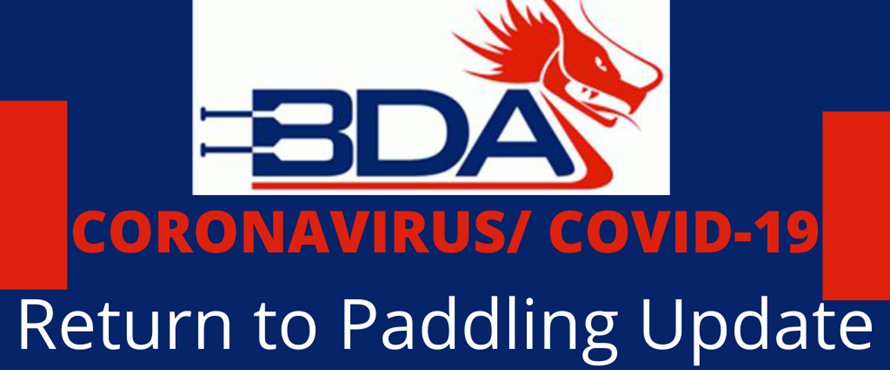 Return to Training
Current Phase: NO LONGER ACTIVE.

PLEASE NOTE FOLLOWING THE RELAXING OF GOVERNMENT RESTRICTIONS THIS PAGE HAS BEEN LEFT UP TO PROVIDE GUIDANCE AND RISK ASSESSMENTS FOR CLUBS TO USE IF THEY WISH.
Please check our Coronavirus page for the latest info.

Below sets out our Return to Training plan.

In July 2020 the BDA setup a working group to develop a plan with the Government Department of Digital, Culture, Media and Sport (DCMS) for a safe return to paddling for BDA member clubs. The plan has now been approved by DCMS. If you are a non BDA affiliated organisation please read our statement.
The plan provides measures that should be taken by clubs and individuals before, during and after all training activity. The plan, importantly, sets a framework for clubs and individuals to understand what they need to do to plot a return to paddling when they feel they can work within the restrictions, and are comfortable doing so.
The return to dragon boat racing will be managed in five phases and requires action from both BDA clubs and individuals before they are able to return to training. The first phase begins on 1st October.
We will review the commencement of each subsequent phase on a monthly basis and will communicate via our Covid-19 page, the crews@ email distribution address and on social media if and when the situation changes.
It should be noted that at any time government advice can change so clubs and Individuals need to ensure they stay up to date with the latest information and potentially be prepared to alter plans if the situation arises.
Actions for Clubs and Individuals
Please refer to the Guidance for Clubs and Individuals document for more details on the phases, requirements, and steps that clubs need to put in place before training in a dragon boat can recommence. This guidance and the plan agreed with the government only covers BDA member clubs.
Guidance for Clubs and Individuals

We held a Zoom call for all clubs on the 14th September at 7.00pm to go through the plan in brief and to answer any questions not already covered by the guidance document.
We have put together an  FAQ document from this call, and other questions asked that accompany the Guidance for Clubs and Individuals Document.
Clubs
Clubs should be aware that they are in control of when they wish to return to paddling and should only do so when they feel they are comfortable and able to.
Before returning to paddling clubs need to ensure they have:
1. Read through the Action for clubs and individuals document, above, and communicated this with club members
Guidance for Clubs and Individuals

2. Completed the Covid-19 Return to Training Plan and have uploaded the document to the BDA Digital Membership Platform.
3. Carried out a risk assessment and upload to the BDA Digital Membership Platform. We have created a risk assessment form which will need to be adapted to your own clubs environment

From 24 September, all sports clubs are required to display an official NHS QR code to support NHS Test and Trace. This does not replace any other requirement associated with recording members attendance as set out in the BDA return to training guidance. You can read more about these requirements here and create your QR code here.  Clubs should discuss this with the premises where they are based and decide whether it is appropriate for this to be provided for the premises as a whole or for the dragon boat club as a separate entity.  This will depend on the amount of mixing between different groups on the premises.
The BDA Digital Membership Platform link and help documents are available here:
https://www.dragonboat.org.uk/the-bda/bda-membership/bda-membership-platform/
Individuals
All Individuals, whether they are paddlers, helms, coaches or support need to ensure they are following government, BDA and club advice when returning to training.
That includes making sure they have:
1. Have read the Guidance for clubs and individuals document
Guidance for Clubs and Individuals
2. Know their clubs plan and risk assessment
3. Are registered on the BDA Digital Membership Platform and have their emergency contacts updated and are linked to their club in the platform. (Please note registering on the BDA Digital Membership Platform does not require you to pay for BDA Individual membership).
For help with how to sign up to the platform, please go to our help documents on the website.

   https://www.dragonboat.org.uk/the-bda/bda-membership/bda-membership-platform/
Additional information
Covid-19 latest info
https://www.dragonboat.org.uk/the-bda/coronaviruscovid-19/
O1 Coronavirus Guidance
https://www.dragonboat.org.uk/media/1368/bda-o1-coronavirus-01-guidelines-v21.pdf
BDA Digital Membership Platform
https://www.dragonboat.org.uk/the-bda/bda-membership/bda-membership-platform/
NHS Coronavirus info
https://www.nhs.uk/conditions/coronavirus-covid-19/
Sports England information
https://www.sportengland.org/how-we-can-help/coronavirus
https://www.sportengland.org/how-we-can-help/coronavirus/return-play
https://www.sportengland.org/news/what-new-tier-4-means-sport-and-physical-activity-england
DCMS Return of sport link
https://www.gov.uk/government/publications/coronavirus-covid-19-guidance-on-phased-return-of-sport-and-recreation
Section Navigation