GB Teams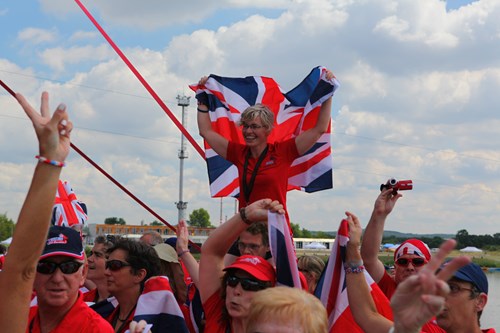 Great Britain has been involved in international competition since the inauguration of the first World Championships held in Yue Yang, China in 1995. GB Squads have competed in every European and World Championships held since then.
Great Britain runs squads in:
Junior A (U18)
Junior B (U23)
Premier
Senior A (over 40)
Senior B (over 50)
Senior C (over 60)
Each squad will then run crews of Open, Mixed & Ladies teams and could be in small (10 person) boats or standard (20 person) boats.
The current list of contacts of GB Coaches can be found at the bottom.
If you are interested in paddling at European and World Championships then please come along to one of the sessions.
Jenni Henderson – GB Team Manager
Jenni has been paddling for just over 7 years and is a member of Worcester Dragonboat Club. She got involved with GB teams from an admin role supporting the GB Senior Squad for 3 years before deciding to apply for the GB Team Manager role. "It is a great honour to be the GB Team manager and to support our fabulous coaches and paddlers on their journey to the Championships". Jenni will be looking forward to another successful year of competition for Great Britain teams.
Junior A & Junior B Teams (U18 & U23)
The Junior A team are the Great Britain Under 18's Dragon Boat Squad and are current World Gold medallists and European Silver medallists. They are looking for dedicated young people who are looking to represent their country of any ability as they offer the opportunity to offer high levels of training to get you to the Great Britain Standard during the British National Training season.
If you believe that you have the dedication to become the best that you can be contact the coach team and register on their website to gain the best experience of your life.
Current Coaching Team information can be found here: http://u18gbdragonboat.wix.com/u18gb#!management-team/c1eux
Premier Team
Our top paddlers from around the country train hard to become members of the premier squad. Made up of male and female paddlers from around the country the team are world silver medallists in the small boats and won Gold, Silver and Bronze medals at the Europeans.
Jon Coventry and Kim Tran lead the coaching team for the premier team and have an open door policy in welcoming paddlers from around the country who have a strong work ethic and are prepared to be lighter, stronger, faster and are interested in joining our premier squad and who have a strong work ethic to become the best of the best.
Senior A Team
Paddlers who are over 40 years of age are eligible for the Senior A team and are made up of men and women paddlers from all over the country. The Senior A team are European Silver and bronze medal holders in both the standard and small boat category and are current World Champions in the small boats.
The team is currently looked after by GB Senior A Coach Allyson Mills and her support team of Garry Milward, Dom Walker & Amanda Taylor-Broadhurst. With a strong team ethic they welcome paddlers from all around the country to join them in training hard to become elite athletes and represent their country at international competitions.
Senior B/C Team
The Senior B team are fondly known as the Grand Dragons and are made up of paddlers who are over 50 years of age. They are World and European Silver and Bronze medal winners and are made up of some of our most experienced paddlers who have competed at international level since GB started competing.
The coaching team of Ian Bowers and Vaughan Collins are well respected within the Dragonboat community and they are superbly supported by admin manager Liz Hearne.